Several articles and blog posts have been written about using the NMRA DCC Decoder library and you can access them directly from this page.

Geoff Bunza wrote a series of articles about building some DCC Decoders on Geoff Bunza's Scale Model Animation Blog and here are the direct links:
SMA10 – Build a 17-Function DCC Decoder for about $5
SMA12 – 17 Channel Configurable Multifunction $5 DCC Decoder For Servos
SMA 13 – Update to the 17 Pin Configurable Multi Function Decoder / Accessory Decoder Version Added
SMA15: New Dual Acessory-Multifunctionl 17 Channel Configurable DCC Decoders for about $5 with Configurable Servo Support
Mark Riddoch has written an article Servos, DCC & Arduinos. It first appeared in the MERG Journal – June 2015 Vol 49 No. 2 and is also made available here with Mark's permission.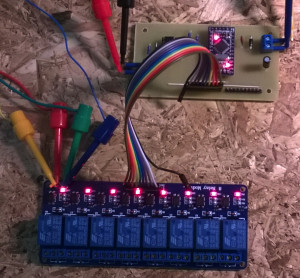 Petr Šídlo has posted an article describing a DCC Accessory Decoder that can drive up to 16 relays on his website here. It's written in Czech language but Google Translate does a pretty good job…